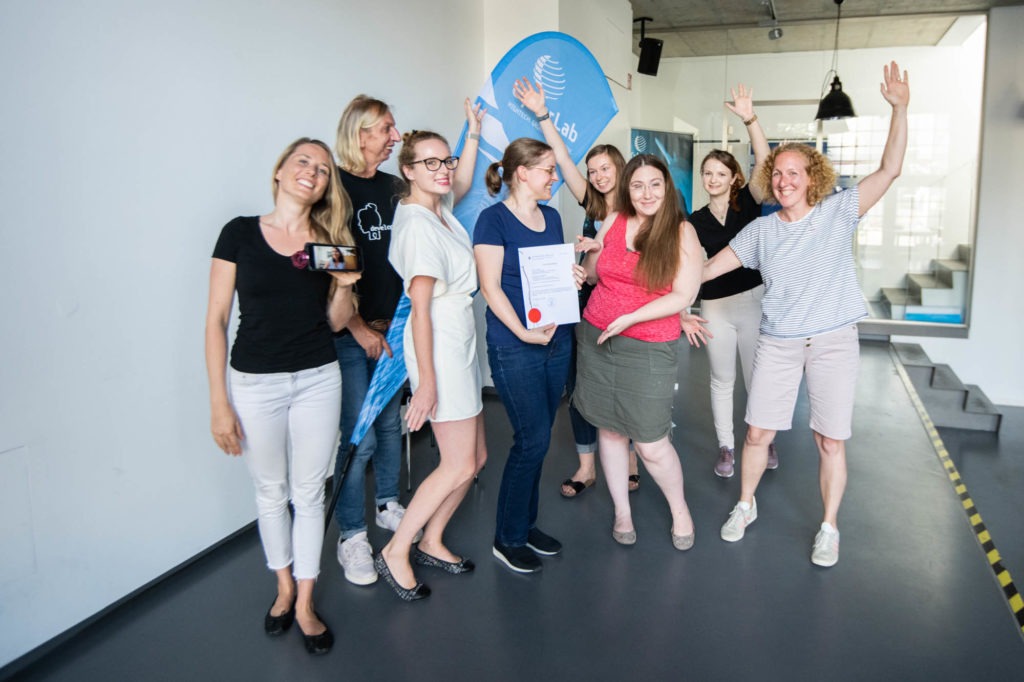 Women in Tech – that's us!
A cross-sector, non-profit association with the aim of attracting, promoting and  making women in technical professions more visible. At the moment women are still clearly underrepresented in technical courses of studies and professions
in Germany, Austria and Switzerland (the proportion is around 20%), and we want to change that.
We want to make a contribution to a more equal and diverse society and especially motivate girls and women to take up a technical profession.
Therefore we organize digital and local events, show role models and form a strong and diversified network of companies, educational institutions and other organizations. In cooperation with our partners, we offer mentorships, job advertisements, career coaching and much more.
Would you like to become a member?
As a member you have priority when it comes to any offers from our partners or events, the opportunity to present yourself on our website and of course the chance to get in contact with other members easily and directly. Register here as a member of our Women in Tech e.V. association:
Follow us on Social Media:
News & Blog
Bei einer Veranstaltung zum Thema 'Women and Tech', welche das Gutenberg Digital Hub in Mainz am 17.6.2021 ausrichtete, hatte ich das Vergnügen an einer Abschlussdiskussion zum Thema 'Wie bekommen wir ganz konkret mehr Frauen in technische Berufe?' zu sprechen. Mit inspirierenden Frauen wie Fiona Krakenbüger, Marie Kochsiek und der Moderation durch Daniela Bublitz gingen wir …
Hallo. Mein Name ist Katrin. Zur beruflichen Neuorientierung habe ich vor Kurzem einen Kurs beim Berliner Bildungsinstitut 'StartSteps' abgelegt, der sich dem Thema digitale Wissensberufe verschrieben hat. Das Anliegen des jungen Unternehmens ist es, Interessenten Einblicke in einige der derzeit und noch in Zukunft gefragtesten Berufe der IT zu geben und ihnen möglicherweise den Zugang …
WIT: Hallo, Maren, bitte erzähle uns doch einmal kurz von dir persönlich. Maren: Ich bin Maren Wagener und wurde 1978 in Radebeul (Sachsen) geboren. Ich habe in Mittweida Medienmanagement studiert, war schon im Studium immer selbständig tätig und habe 2008 ein Unternehmen gegründet. Seit 2015 lebe und arbeite ich mit meinem Mann auf einem Segel-Katamaran, …
Next Events
Ort:
digital
Veranstalter:
Women in Tech e.V.
Ort:
digital
Veranstalter:
Women in Tech e.V.
Apply to become a speaker for our #SpeakUps!
Every month we invite a Woman in Tech  to speak to us about tech topics. Do you want to join us?
Be a part of our vision by becoming a volunteer!

You have skills in content creation, coaching, speaking or training? We would love to include you in our team!